Moloney Monuments provide complete grave restoration, plot upgrade or memorial renovation.
Moloney Monuments bring many years of experience in concrete and stone work to grave renovation. We can replace any old limestone or concrete surround with new granite surround while keeping the existing headstone. We can also replace the existing grave surround with a new granite or concrete surround and match it to the colour of the existing granite headstone, limestone headstone or marble headstone. Various grey and white granites are available to match the colour of limestone and white marble headstones.
If required, we can lay new concrete, repair old or cracked concrete and add stone chippings or recycled glass chippings to new and existing graves. This will help reduce or eliminate maintenance and keep the grave site weed free.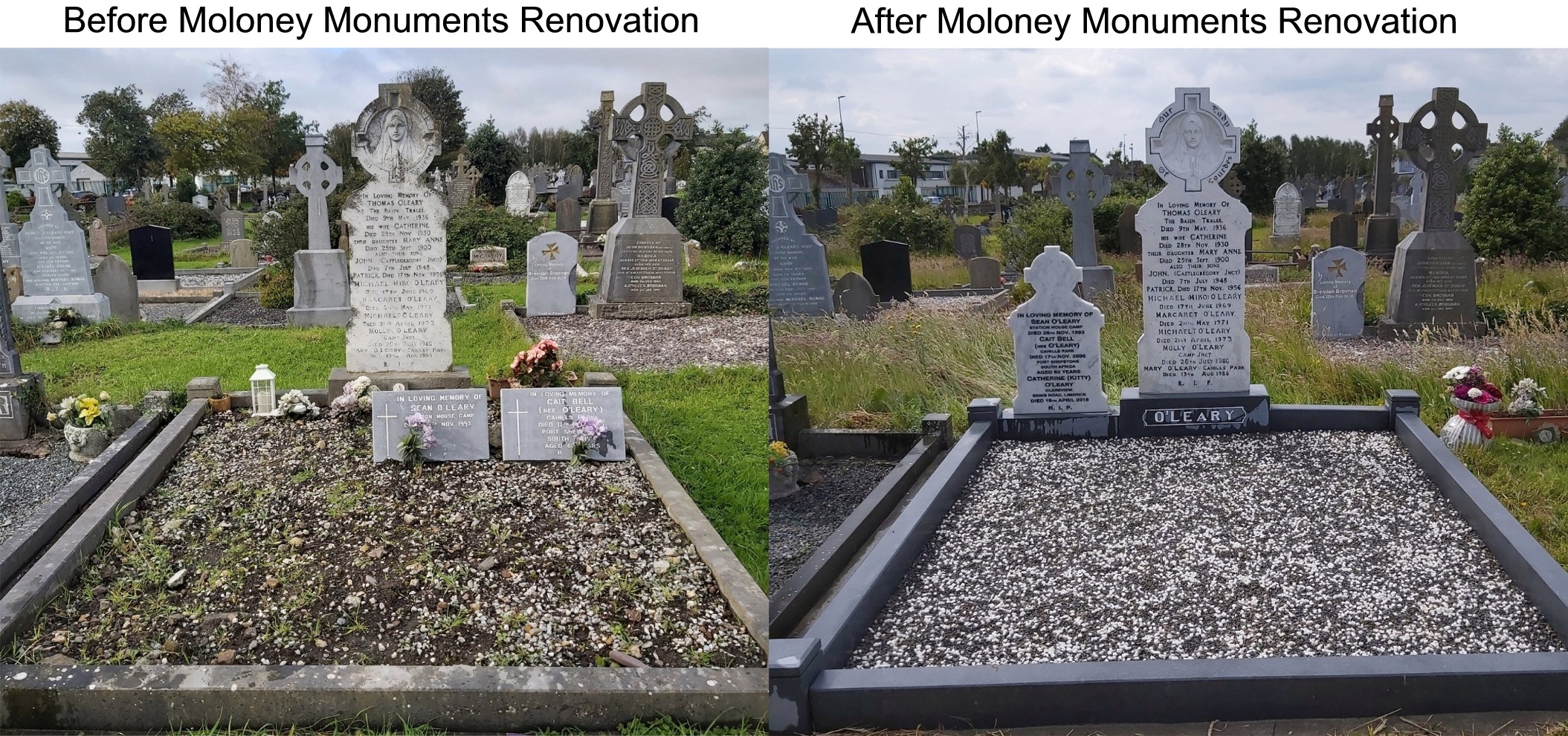 ---
We can also add new or additional inscriptions on site to an existing gravestone or monument or have the existing letters re-enameled or re-glided. Our monuments and memorials crafted by Irish stone cutters will be erected with such craftsmanship and top grade materials that there should be no need for maintenance other than the occasional cleaning.
Depending on the stone type and condition, we may have to centre plinths, restructure the grave base, sand-blast or soda-blast the stone boulder. Then we may have to re-cut the stone and repaint or re-gild where necessary. After restructuring bases, centering plinths, sand blasting or soda blasting, re-cutting and re-painting or re-gilding, we will return your memorial to pristine condition.
For a quote, just fill in the Quote Request form or if you have any questions, submit the Quick Inquiry form. Alternatively, send us an email to info(at)monuments.ie or phone Darragh Moloney at 086-252-9074.